Rural Library Opening
11 Nov 2016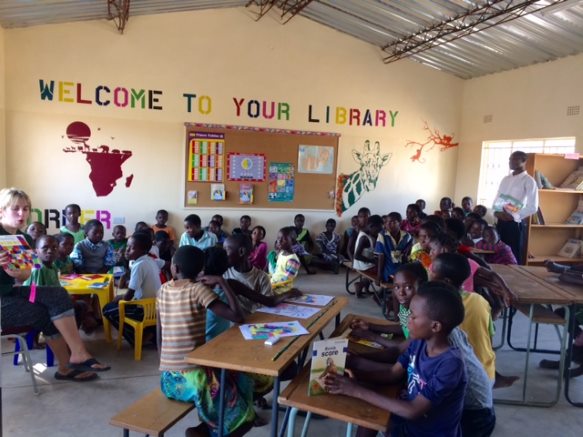 The Musangu Foundation are delighted to announce the completion of their first Rural Library Project, opened on Wednesday 2th November 2016 in the Musangu Comprehensive School in Mazabuka District in rural Zambia. The library was opened by Michelle Cadby, Business Development Manager at BDO, who raised funding in the UK for the internal design and decorative materials that were used to create the wonderfully inspiring educational space. Michelle volunteered her time to set up the project in Zambia.
Sixty children, along with their teachers, came to the library opening. The children all enjoyed accessing the books as well as the colouring sheets, pens, pencils and crayons – none of which they had experienced before. The biggest treat of the day was a story read to them by Michelle, which they all listened to, enthralled in the new world that had opened up to them.
Zambia has 7 official local languages however, English is the universal language of education, business and government. Quoted literacy rates are around 80% in-country but in disadvantaged communities literacy rates are considerably lower. Reading it is an essential life skill; it improves literacy, develops a positive attitude towards learning and is crucial to the academic and social development of young people. Despite the importance of literacy a lack of resources mean there are few reading opportunities for many children in Zambia.
The new library houses around 1000 books from teacher resources and guides to fiction for all ages. The library is a bright colourful free space for all of the school to use at their leisure, containing an infant 'bookworm' reading corner, a chill out zone with comfy beanbags for older children to relax, and a special teacher area with lesson guides and stationary supplies to inspire creative learning.
`On behalf of the Musangu Foundation and the children I would like to thank Michelle for her incredible hard work over the past week. With temperatures up in the mid 30's here in Zambia, working on a physical project like this is very demanding, her attitude, passion and excitement for the project has been unfaltering. I know the children will miss not having her around but she has left a wonderful legacy for this community' said Vicki Partridge, Fundraising Director at Musangu Foundation.
Over the past 6 months we have received over 10,000 books from UK schools, with special thanks going to Longdean School in Hemel Hempstead and The Ellis CE Primary School and Joseph Locke Primary School in Barnsley for their ongoing support. Without your help and generosity the Library would not have been possible.
We are committed to establishing 5 new rural libraries throughout 2017/18 with the wonderful books that have been donated.



Share Article