New Ambulance for Rural Communities
11 Nov 2016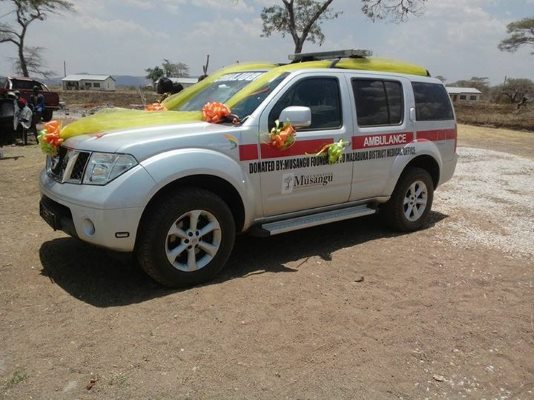 The Musangu Foundation has donated a brand new 4x4 ambulance to Mazabuka District Ministry of Health in a colourful ceremony in the constituency. The ceremony was attended by the district commissioner, ministry representatives, traditional elders and members of the receiving community.

The presentation was made to the District Commissioner, on behalf of Mazabuka District Hospital, on Friday 28th October by Simon Purkiss, CEO of Consolidated Nickle Mines (CNM) who provided the funding for the ambulance.

Speaking at the handover ceremony, Mr Purkiss said 'the donation of this ambulance is very significant, rural communities throughout Mazabuka have very limited access to appropriate healthcare, often having to travel huge distances in great discomfort or by foot to receive the treatment they require. Delivering timely, clinically sophisticated emergency response is critical to rural communities, it will save lives. CNM are delighted that they can support the Musangu Foundation in the valuable work they do - improving lives within disadvantaged communities'.

Most of the rural areas that the ambulance will serve have never had an ambulance provision before and will use it primarily to transport very ill patients to the main District Hospital where services such as Surgery, Labour wards, Emergency Departments and Pediatrics can be accessed. Their nearest secondary medical facility to the community at Mugoto is more than 40 kilometres away, but the donated ambulance will service a 150-kilometre radius.

'It's not uncommon for a patient who is very ill to take two days getting to the hospital through a combination of walking and hitchhiking. We at the Musangu Foundation feel this is unacceptable for the rural communities we serve, and if we can reduce this time and give speedier medical treatment more lives can be saved', said Vicki Partridge, Fundraising Director at the Musangu Foundation.


Share Article